Superintendent's Update: Back To School Protocol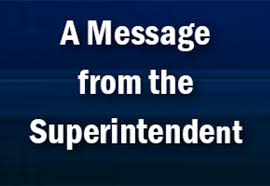 ---
We know that parents and guardians are anxiously awaiting word on our plan to return to school for the 2020 - 2021 school year. We have given much thought, care, and effort into our planning so that we may take every precaution to keep students and staff members safe and healthy. Our goal has always been, and always will be, to provide as "normal" an educational setting as can safely be provided. After much consideration and planning, our plan is as follows:
Students will return to school on Tuesday, September 8th.
Bus Transportation: Bus drivers will wear masks. Students will have their temperature checked prior to boarding the school bus. If a student has a temperature, he or she will not be allowed to board the bus. Students will be socially distanced as much as is reasonably possible.
Students being dropped off/driving themselves: Students being dropped off or that drive themselves to school will have their temperature checked prior to being allowed to enter the building. If a student has a temperature, he or she will not be allowed to enter the building.
Students and staff members are encouraged to wear masks, but masks will not be required. If masks are worn, parents must provide masks for their child/children, and staff members will have to provide their own masks. The school will not provide masks.
Visitors to school will have their temperature checked prior to being allowed to enter the building and are encouraged to wear a mask. If a visitor is determined to have a temperature, access to the building will be denied. Visitors will be limited to and given access by the discretion of administration. The administration reserves the right to limit and/or deny access to the building.
Water fountains will be turned off. Students should bring individual bottles of water to drink during the day. The school will not provide bottled water for students.
If a student is sent to the nurse and has a temperature (100.2+) and/or symptoms of COVID-19, the student will be placed in a private area away from the general population until the parent or guardian can pick him or her up. Parents and guardians will be expected to have a way planned out ahead of time to have their child or children picked up in the event they are running a fever and/or demonstrating symptoms of COVID-19. Returning students must be symptom free for a minimum of 24 hours.

Breakfast and lunch will be provided in the classroom rather than having students gather in large groups in the cafeteria.
The exception may be lunch for Kindergarten and 1st grade students. In the event these students enter the cafeteria, social distancing will be practiced.
Social distancing will be practiced as much as can be expected in classrooms, during transition time, when taking restroom breaks, and at all other times during the school day.
Signage will be posted throughout the building to remind students and staff members of safety measures to prevent the spread of communicable diseases.
Custodians will make extra efforts to sanitize the building throughout the school day.
Protocol is based to change as defined by state and local health officials.
Please be assured that hours were spent planning for students to return to school. There is no great answer for how to do this. We are in uncharted territory as we face this pandemic from an educational standpoint. Again, our goal was to provide the most "normal" educational setting as possible, yet keep staff and students safe. We truly feel that the steps outlined here will help us accomplish both goals. Should you have questions, concerns, or suggestions, please feel free to contact school leaders. Contact information is listed below. Thank you in advance for your cooperation and support as we prepare to do what we feel is best for our students.
Jamie Ard (Elementary School Principal) - jard@miller.k12.ga.us
Cleve Roland (Middle School Principal) - croland@miller.k12.ga.us
Bo Adams (High School Principal) - bo.adams@miller.k12.ga.us
Shane Miller (Superintendent of Miller County Schools) - smiller@miller.k12.ga.us